Young America Cheaper Car Insurance Premiums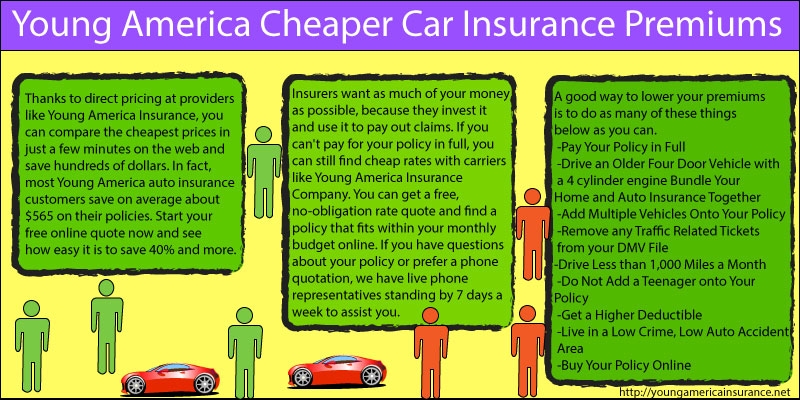 There's been a major shift in the industry in recent years, as more and more consumers are finding cheaper car insurance premiums online. Thanks to direct pricing at providers like Young America Insurance, you can compare the cheapest prices in just a few minutes on the web and save hundreds of dollars. In fact, most Young America auto insurance customers save on average about $565 on their policies. Start your free online quote now and see how easy it is to save 40% and more.
Are you someone that finds insurance lingo boring and confusing? Does collision and PIP coverage interest you about as much as paint drying? You are not alone. Insurance might be boring but it is something every driver needs to get. That's because carrying active auto insurance is the law in almost every state. Like paying Uncle Sam each year, there's just no way to get around spending money on car insurance, if you plan on owning a vehicle. While you can't control these laws, you can control, to a great extent, the type of policy you get. Learning the fundamentals of insurance will also help you to get the right amount of coverage without getting ripped off.
What is an Auto Insurance Premium?
A vehicle insurance premium is the cost you pay, in exchange for an insurer to offer you an active policy. Premiums vary greatly, depending on numerous factors like your age, sex, driving record, education, credit, homeownership, years insured, and more. They are set up with various payment options you can choose from. Some have a small down payment requirement and the balance is paid through monthly or semi-annual installments. There are some insurers that offer no money down coverage, with the premiums due every month. This might sound tempting, especially to those on a tight budget. However, you can almost always save 5% to 10% by paying for your policy cost upfront and in full.
Insurers want as much of your money as possible because they invest it and use it to pay out claims. If you can't pay for your policy in full, you can still find cheaper car insurance premiums with Young America Insurance Company. You can get a free, no-obligation rate quote and find a policy that fits within your monthly budget online. If you have questions about your policy or prefer a phone quotation, we have live phone representatives standing by 7 days a week to assist you.
Pay Your Cheaper Car Insurance Premiums Online
One of the many benefits of buying a direct policy online is you can manage your account anywhere, as long as you are on the internet. This means you can pay your car insurance premium online, with just a few clicks of the mouse. You can also set-up a monthly automatic payment deduction, that will pay your automobile premium for you. You can manage your billing settings anytime and add or cancel this option. This is one of the many ways Young America car insurance strives to make their customers satisfied.
Strategies for Lowering Auto Insurance Premiums 
A huge factor in the cost of insuring your car and the premiums you pay will be the coverage you get. There are three basic types of insurance you can purchase.  These are liability, collision and comprehensive. The cheapest plan you can buy is going to be a liability. If you are a safe driver with no accidents and tickets, you can often get auto coverage for less than $40 a month. To get a price this low, it really depends on other factors like where you live and your credit, to name a few things. Liability is smart if you have minimal assets, do not drive too much and have an older car.
For those motorists that have a newer automobile and drive more than 1,000 miles each month, they should consider getting a collision or comprehensive policy. This type of ins is broader and will add further protection, in the event you get into a serious crash.
A good way to lower your premiums is to do as many of these things below as you can.
Pay Your Policy in Full 
 Drive an Older Four Door Vehicle with a 4 cylinder engine
 Bundle Your Home and Auto Insurance Together
 Add Multiple Vehicles Onto Your Policy
 Remove any Traffic Related Tickets from your DMV File 
 Drive Less than 1,000 Miles a Month 
 Do Not Add a Teenager onto Your Policy
 Get a Higher Deductible 
 Live in a Low Crime, Low Auto Accident Area 
 Buy Your Policy Online
Get the Cheapest Premiums Online
This point can't be emphasized enough. You can save hundreds off your policy just by buying a direct policy. Not only will you save money, but also your valuable time. There's no need to get into your car and wait around at an agent's office, where you might be ending up paying a lot more. At sites like Young America Insurance, you can get cheaper car insurance premiums in about 5 minutes. Start now and see the price difference for yourself.