Car Insurance Buy Now Pay Later
While it's true that most car insurance companies require you to pay a deposit towards your premium in order to start your coverage, it's not always the case. You can find out that the car insurance buy now pay later option isn't that hard if you are willing to put a little bit of effort and time into your search. If you are running low on cash and can't make a large lump sum payment, this gives you a way to get your car legally insured.
Do your Research to find Low Deposit Car Insurance Offers
What if you don't qualify for car insurance no immediate payment plan. Some auto insurance companies do require you to pay your entire 6- or 12-month premium before your policy goes into effect. This is especially true if you are a new customer, have a less than stellar driving record, or have a poor credit history.
Other carriers will allow you to divide your total premium into equal monthly payments. To start your coverage, you are usually only required to pay the first month's payment. This is a huge bonus if you are a little short on cash and need car insurance fast.
In a few cases, you may be able to find an insurer that will provide coverage without any upfront payment. This is typically called car insurance buy now pay later. You should know, however, that these deals are rare. They are often offered to long-time customers renewing their policies or new customers with exceptional driving and credit history. You may also qualify for this deal if you are an experienced driver looking to insure an inexpensive car. Start comparing quotes in less than ten minutes. Enter your zip code to get started.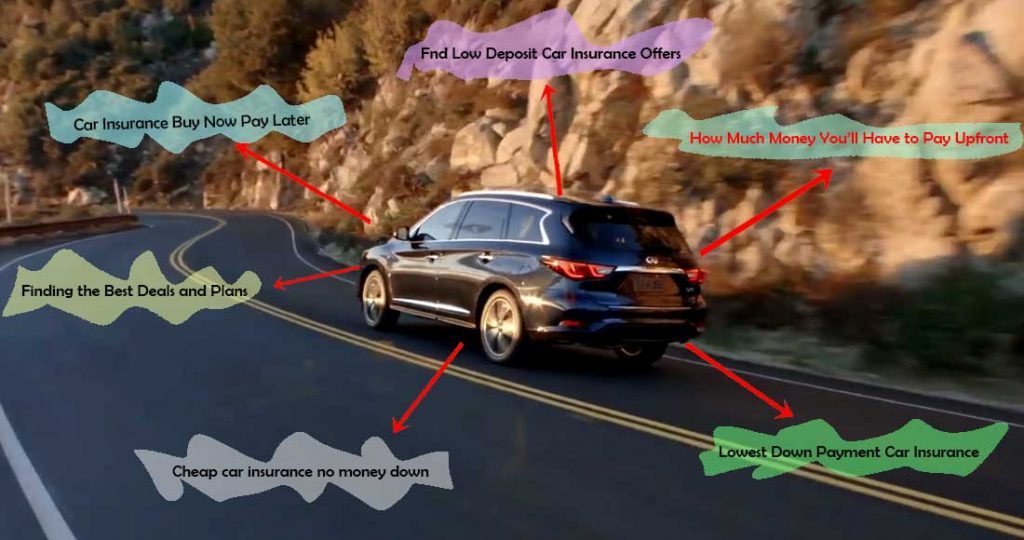 Determining How Much Money You'll Have to Pay Upfront
When determining how much to charge for your premium, insurance companies look at your overall risk. To do this, they will consider:
Your age and how long you've been driving
Your driving history, including at-fault collisions and traffic tickets
Your credit history, including how much money you owe and whether or not you have defaulted on other payments
The age and overall value of your car
Any customization made to the vehicle, such as adding a turbocharger
The type of coverage you want, such as liability only or comprehensive and collision
If your driving and credit record are spotty and or you are trying to insure a newer and more expensive vehicle, most insurance companies will decide that it is simply too risky to insure you without collecting a down payment first. On the opposite side, if you are a good driver with a great credit history and are interesting in insuring an older car, you may qualify for a very low down payment.
Finding the Best Deals and Plans
When you are looking for car insurance buy now pay later option, you'll first have to consider what state you live in. Currently, the only states that allow nothing down policies are:
It's also worth noting that not all insurance companies offer this option. Those that include State Farm, Safe Auto, Kemper, Allstate, Geico, and Progressive.
If this isn't an option where you live, you don't have to resign yourself to spending a ton of money on getting your car insurance started. In either case, here are a few tips for finding no or low down payment insurance:
Opt for liability-only insurance. Liability insurance is required everywhere in the United States. This type of policy is considerably cheaper than full coverage insurance. Of course, liability insurance doesn't cover you or your car's damages in an accident. For this, you'll need the more expensive collision policy. You'll have to weigh the pros and cons of going with the lower price liability insurance instead of the full coverage policy that provides more security.
Look at your payment plan options. Most companies don't advertise installment plans because it's more beneficial for them if you pay the entire premium up front. However, they are available and a great way to activate your insurance policy without emptying your bank account.
Compare multiple rates. Never go with the first quote you get. Instead, take advantage of the internet to quickly and easily get quotes from multiple insurance companies. Be sure that the same type of coverage is being compared before looking at the rates. Then, pay careful attention to the down payment amount, along with how much your monthly payment will be.
If you are able, pay the entire policy in a single lump sum. Even if you can't do this right now, you may be able to in the future. (For example, right after you get your income taxes back.) Most insurance companies will give you a 5-10% discount simply for paying your policy in full.
Don't forget to ask about discounts. Speaking of discounts, insurance companies offer all kinds of discounts, such as a good driver or good student discount, that you may not be familiar with. However, you usually have to ask about them. This can save you hundreds per year.
Will the Lowest Down Payment Car Insurance Save You Money?
Maybe sometimes you need instant car insurance with no deposit or another good instant option with low upfront payment. Although nothing down and car insurance buy now pay later policies to give you the huge benefit of not being responsible for a large upfront payment, you won't save as much money as you might think. To understand why this is, here's a quick example.
Let's say an insurance company agrees to insure your car for a full year for a single payment of $600. The only catch is that you'll have to pay the entire amount before the policy goes into effect. A second company says they'll allow you to pay $60 a month and your policy will go into effect immediately. However, your first payment isn't due for 30 days. For the remaining 12 months of the policy, you will have paid out $720, or $120 more than paying for the policy upfront. Yes, you got a nothing down car insurance deal, but you paid more in the long run.
Cheap car insurance no money down facts
If your financial situation is not the best, and you anyway need a low down payment car insurance could be a good option for you.
The option to get no down payment auto insurance policies will guarantee that you can pay for the coverage you need to drive your vehicle.
Whether or not you are able to get car insurance buy now pay later plan, one thing remains the same: always start your search for car insurance by comparing multiple rates online. This will help you get the best deal possible.
So, enter your zip code and start comparing plans.