Young America Insurance Comprehensive Coverage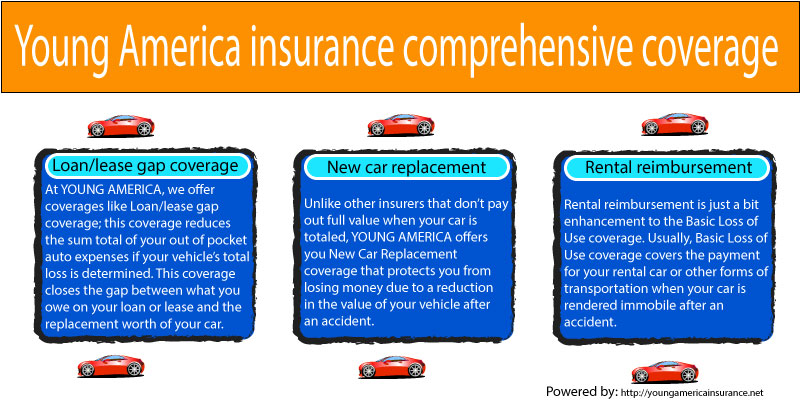 A car accident can put your car out of shape. A car accident isn't the only thing that can damage your car. This is where comprehensive coverage comes in; it's always a good idea to have your properties insured especially cars, this gives you an advantage; you can always repair your vehicle because of a fire, accident, theft, debris, or vandalism. When you go with YOUNG AMERICA, we will help you get your car back on the road after damage. We offer a lot of coverages, so you can scope through comprehensive coverages and other optional coverage to suit your taste.
Loan/lease gap coverage
At YOUNG AMERICA, we offer coverages like Loan/lease gap coverage; this coverage reduces the sum total of your out of pocket auto expenses. This coverage closes the gap between what you owe on your loan and the replacement worth of your car.
Comprehensive Coverage New car replacement
Unlike other insurers that don't pay out full value when your car is totaled, YOUNG AMERICA offers you New Car Replacement coverage that protects you from losing money due to a reduction in the value of your vehicle after an accident.
Rental reimbursement
Rental reimbursement is just a bit enhancement to the Basic Loss of Use coverage. Basic Loss of use coverage covers the payment for your rental car or other forms of transportation. All that happens when your car is rendered immobile after an accident. But with the rental reimbursement, you get unlimited days of rental car coverage, regardless of how long it takes for your car to be fixed. If you use a preferred auto repair shop and a preferred rental car provider following the accident.
Special physical damage coverage
Sometimes in an accident, only some specific parts of the vehicle or property are damaged; the door, the side mirrors, the window, the windshield, etc., when this happens, Special Physical damage coverage covers the replacement of the damaged property whenever the new original manufactured parts are available.
Descriptions such as; coverage, protection terms, product, discounts, definitions, etc. are provided only for enlightenment purposes and DO NOT in any capacity replace the information contained in your individual insurance policy pages from YOUNG AMERICA affiliated underwriting firms. These descriptions may vary by state and exclusions may apply.