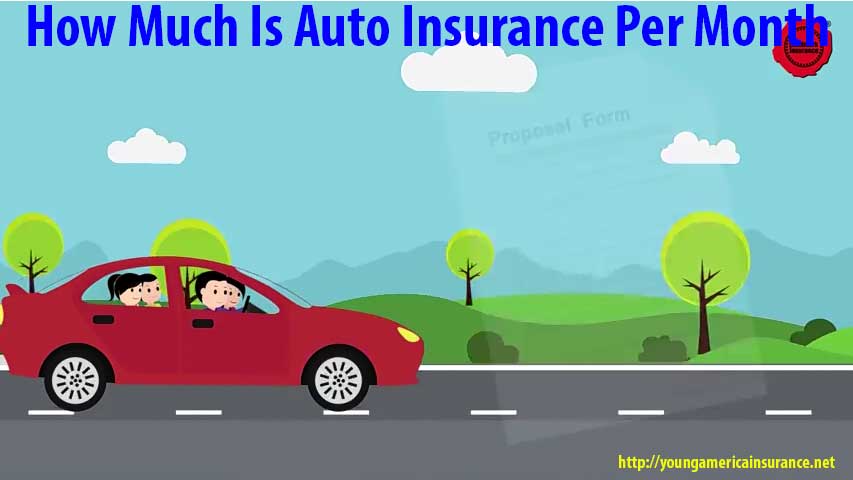 How much is Auto Insurance Per Month?
Everybody needs to get insured if they are going to be driving, but so many drivers don't have any idea how much is auto insurance per month. This can result in paying too much or even too little for car insurance coverage. You should do some due diligence before you buy any policy, so you know what you are getting and what you should pay. Enter your zip code and compare the cheapest online rates at Young America Insurance Company website and save hundreds.
Car Insurance Rate Factors
The price you pay monthly for auto insurance depends on multiple factors. Car insurance companies weigh each category and then come up with a risk profile that helps determine the premiums charged. Here are a few of the main rate factors you should be aware of.
30% – Your Driving record. This includes the number of tickets on your record and claims filed. Serious violations like a DUI (Driving under the influence) can skyrocket what you pay for insurance, so avoid these flagrant violations.
15% – Your age. Drivers between the ages of 16 and 25 pay more for auto insurance because they get into the most accidents of any group of motorists. In recent years, thanks to texting while driving and an increase in distracted driving, crashes have gone up among younger motorists. Drivers between 40 and 65 pay some of the lowest rates because they are more responsible behind the wheel and file fewer claims.
15% – The Vehicle you Drive. This is another huge factor that you should be aware of the next time you are shopping for a car. More expensive and newer automobiles will cost more to insure. Also, luxury and high-end sports vehicle like a Porsche will cost more to get covered. Vehicles more than 8 years old, with four doors and four-cylinder engines, will be cheaper to insure.
 10% – The Coverage you Select. The type of insurance and limits you buy will affect your car insurance premiums. Also, the deductible amount you choose will have an impact on the cost of your policy. Collision and comprehensive insurance are more expensive than liability, but provide broader protection. Make use of a car insurance cost calculator and choose your coverage carefully.
8% – Your Home Address. Where you live plays a role in how much you pay for monthly car insurance. In general, more urban and congested areas will cost more. Crime, including stolen vehicle data, is also a factor in determining rates in a specific area. Conversely, more rural areas with less crime and traffic will see reduced premiums.
7% – Your Credit Score. Auto carriers are placing greater emphasis on a persons credit rating when determining rates. A higher score demonstrates that drivers are more responsible and thus take fewer risks. Those with poor credit scores, below 600, can expect to pay 10% or more for coverage.
7% – Marital Status and Gender. Married drivers will pay less for auto insurance. Also, male motorists will pay a bit more because they tend to take more risks driving than women.
5% – Monthly Mileage. Take into account the average gas cost per month, if you drive less than 1,000 miles per month, you can save 10% or more on car insurance coverage.
3% Occupation. If you use your vehicle for work, like a pizza delivery driver or construction foreman, you will pay more for auto ins. If you are a software engineer, who doesn't drive much, you can get lower rates.
How to Get Cheap Monthly Auto Insurance
An easy way to get cheaper premiums is to shop online and buy a direct policy. You want to search for providers that offer direct to the consumer policies like Young America Insurance. Most shoppers can save over $500 per year by buying auto insurance direct over the web. Shopping online also cuts down on hours of calling up agents or visiting broker offices. Nearly everyone has access to the internet, so there is no excuse for not, in the least, comparing online quotes. Remember, when you get a quote, there is never any obligation to buy a policy.
Clean Up Your Driving Record
Do you have one or more outstanding tickets that have been on your driving record for years? If so, you are probably paying too much to get insured. Go to court and ask the judge if you can clear them by going to traffic school. This will only take a couple of days and can save you $100 or more annually, in the way of lower premiums.
Do Not Let Your Coverage Lapse
If you plan on switching carriers in the near future, do so before you cancel your existing policy. This will help you save 5% or more by not having lapsed coverage. Insurers view drivers who let their car insurance expire without renewing as more risky, as well as bad customers who do not pay their bills on time.
Get All the Discounts You Can
Everyone loves a discount and most insurers offer several. Here are a few of the most common you can qualify for.
Safe Driver
Military and Veteran 
Good Student (Maintain a B or higher GPA to qualify) 
Low Mileage 
Garaged Vehicle
Teacher
AARP and Senior Citizen Discount
Now that you know how much is car insurance per month, it's time to lower your rates. Apply now and see how easy getting cheaper car insurance can be.