Temporary Auto Insurance Online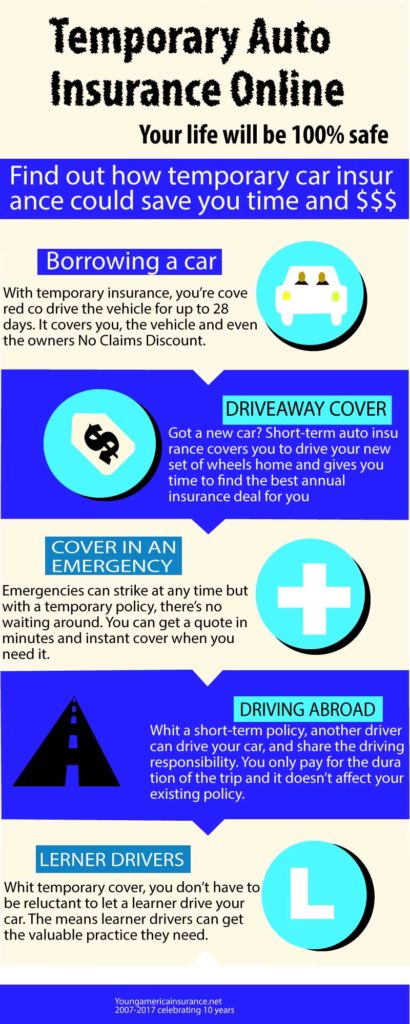 While most auto insurance policies are 6 and 12 months in duration, some people just don't need coverage that long. This is where temporary car insurance comes in. Short term ins offers the same coverage and protection as a normal policy, but it has a shorter period of time.  Any vehicle that is covered for less than 6 months is considered temporarily insured. Someone might need this type of insurance for a variety of reasons. Here are some of the frequent ones.
You are testing out a new car for a few days that you might buy and need temporary protection
You're borrowing a friend stored uninsured vehicle for a month and need to get 1-month auto ins. 
Your vehicle is in the repair shop for an extended period and need enhanced coverage on a rental car.
A friend or family member borrow a car that is in storage and to protect yourself, you need short-term coverage.
You are in the process of selling your car and need 1-month coverage for those that will be test driving it. 
Your auto insurance lapses and you need temp car ins because you'll be leaving the country in a couple months. 
Always Drive With Legal Auto Insurance
Sometimes it is tempting to skimp on buying auto insurance, especially if you only need it for 1 or 2 months. While this might save you a couple hundred dollars, it could also cost you tens of thousands. Even if you are borrowing a friend's or relatives automobile that has no insurance for just 1 week, do not drive it without the legal coverage in the state where you reside. If you get caught driving a non-insured vehicle, fines can start at $1,000 in some states and the car could be towed away. An impounded automobile can cost hundreds and even thousands to get out.
Remember "Murphy's Law," what can go bad often does. This, of course, includes accidents. If you operate an uninsured car that gets into a crash that you caused, you could be on the hook for the damages. This includes vehicle damages and medical costs to the victims. These horrible incidents often end up in court and the driver's wages can get garnished for years. This is why it is crucial to buy temporary auto insurance, even for less than a month. Get great rates on temp car ins at Young America Insurance website or over the phone.
Why Temporary Car Insurance Is Important
If you need to drive your friend's vehicle for a few weeks, you need a non-owners policy. This type of temporary ins is for people who will be driving another vehicle consistently, on a recurring basis. For example, you might start a moving business and need to borrow a friends truck on the weekends. You need to add non-owner coverage to get it legal. In today's litigious environment, you want to be protected as much as possible, in the event you get into a serious accident.
Each state in the USA requires operators of motorized vehicles to carry state minimum liability coverage. This means, at the least, you should have liability insurance on any automobile you are driving at all times. Keep in mind that this is only "bare bones" coverage and many people will need additional coverage, like comprehensive. Whether you are getting car insurance for one year or a temp policy for 2 months, make sure you get the proper level of protection that meets your needs. After all, that's what insurance is for, to protect you from financial devastation.
You should also check any car that you are driving, regardless for how long, to make sure it is insured. If not, you could get into a wreck and be held liable for the damages and injuries that occurred. The ins identification card should be in a visible, easily accessible place, like in the glove compartment or sun visor. Check it before you drive to make sure it's not expired.
Cheap Temporary Car Insurance Online
You can get the best temporary vehicle policies online with direct carriers like Young America Auto Insurance. You can purchase coverage, from 1 to 30 days, with rates starting at only $29. Your policy can be extended or cancelled anytime online. To get started, apply for a free quote and compare prices in 10 minutes or less.