Young America Auto Insurance
One of the fastest-growing U.S. insurers is Young America Auto insurance. The company provides low-cost coverage, including very cheap car insurance from $20 down. They offer liability, collision, and comprehensive insurance at affordable rates. Consumers can get comparison quotes online, over the phone, or in-person at a local office.
The firm also has dedicated agents that can assist customers with valuable insurance advice, including what type of coverage to get and tips on saving more. This is one of the reasons why the insurer has grown so fast in recent years.
When it comes to selecting the right auto insurance plan, many people don't know where to start. For this reason, customers can come into any Young America Auto Insurance office, and a representative will walk them through the best available options. Almost all agents speak both Spanish and English, which is another big plus.
Young America Liability Auto Insurance From $29
Most states require drivers to carry at least the minimum amount of auto insurance in order to be seen as legal and responsible. Auto liability insurance protects both your interests and your life. 
Liability insurance covers you from circumstances that you might be accountable for legally. This includes damage you caused in an accident, such as property damage or bodily injuries. You can protect your driving record and your bank account with the right kind of coverage. Liability insurance will cover you in the event of an auto collision caused by you. If the other driver causes any damages or injuries, your insurance plan will pay for it. 
Young America Auto Insurance delivers on the promises that any good liability insurance plan should have.  For safe drivers, rates can be as low as $20 per month.
Bodily Injury Liability Protection
Everyone makes mistakes. Young America car insurance plans help you stay covered in the event you cause an accident. Bodily injury liability plans will help you pay for the other driver if they are hurt in an accident that you are at fault for. 
Property Damage Liability Protection
Young America auto insurance also provides property liability coverage to protect the other driver's vehicle in case it is damaged in an accident. This type of liability coverage can be the difference between a safe bank account and a lawsuit.
Low -Cost Uninsured Motorist Coverage
Suppose you are involved in an accident with drivers that don't have enough insurance or no coverage at all. In that case, Young America uninsured coverage can provide you added protection at low rates.
Uninsured coverages cover the expenses of any bodily injury to you or your passengers. This just happened when you are involved in a hit-and-run accident or with someone that is not insured. It also applies to you while on foot.
Personal Injury Coverage
Personal injury coverage fills in the gap in the case of death, injury, loss of services, or loss of income that has affected you or your covered family members or your covered passengers (even though this does not apply to all states).
Medical Fees Included
The payment for medical treatments includes the bills for you and the passengers involved in the accident. It also covers losses if you are involved in a covered accident while on foot.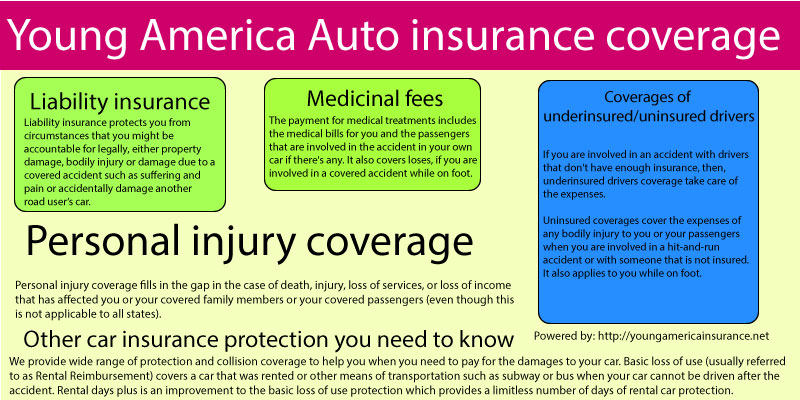 The Right Kind of Collision Protection
Young America auto insurance plans also extend to collision and comprehensive protection. The company provides a wide range of protection and collision coverage to help you when you need to pay for the damages to your car. Collision coverage will help pay to repair or even replace your vehicle if it becomes damaged in an accident. Usually, this insurance plan will protect you if you are the victim of an accident and not at fault. 
Basic loss of use (usually referred to as Rental Reimbursement) covers a rented vehicle or other means of transportation such as a subway or bus when your car cannot be driven after the accident. Rental days plus is an improvement to the basic loss of use protection which provides a limitless number of days of rental car protection.
Advantages of Young America Car Insurance
As a Young America insurance client; doing business with us, they are benefits meant for the clients. You may also include young American insurance rewards to customize your insurance policy more.
Product coverage, discounts, insurance terms and conditions, and other definitions are only meant to provide information to clients. They do not alter or change or modify the data contained in the insurance contract, policies, and or acknowledgment sections from young American-affiliated endorsed companies. Such products, coverage, terms, and conditions might vary according to states, and disclaimers may also apply.
Expect the Unexpected
Young America auto insurance provides protection for those unexpected events. Make sure your own car is covered when you hit another vehicle or even another object, such as a fence or a pole. Need a quick helping hand to repair or replace your car? Young America insurance has you covered!
Young America Auto Insurance Quotes
Comparing hundreds of plans and quotes online can be overwhelming when you aren't sure what kind of coverage you need. To apply for a free Young America Insurance quote online, enter your zip code, and start an application. The process just takes about five or six minutes, and you can save hundreds with direct rates.