Young America Auto Insurance
One of the fastest-growing U.S. insurers is Young America Auto insurance. Young America sells affordable liability, collision, and comprehensive insurance at some of the lowest rates in the U.S. The company provides low-cost coverage, including very cheap car insurance from $20 down. 
Consumers can get comparison quotes online, over the phone, or in person at a local office. Car insurance quotes are always free, and you can also review rates from other competitors at no additional cost. To start, just enter your zip code and fill out a basic application. Get your custom rates online in less than five minutes.   
Young America Insurance Company also has dedicated agents that can assist customers with valuable insurance advice, including what type of coverage to get and tips on saving more. Insurance is what Young America knows best, and each associate is eager to help clients with any questions they have. This is the competitive edge that keeps customers renewing their policy year after year. This is one of the reasons why the insurer has grown so fast in recent years.  
Many people don't know where to start when selecting the right auto insurance plan. For this reason, customers can come into any Young America Auto Insurance office, and a licensed agent will walk them through the best available options. Almost all agents speak Spanish and English, which is another big plus. You can even get an over-the-phone quote in Spanish in about five minutes.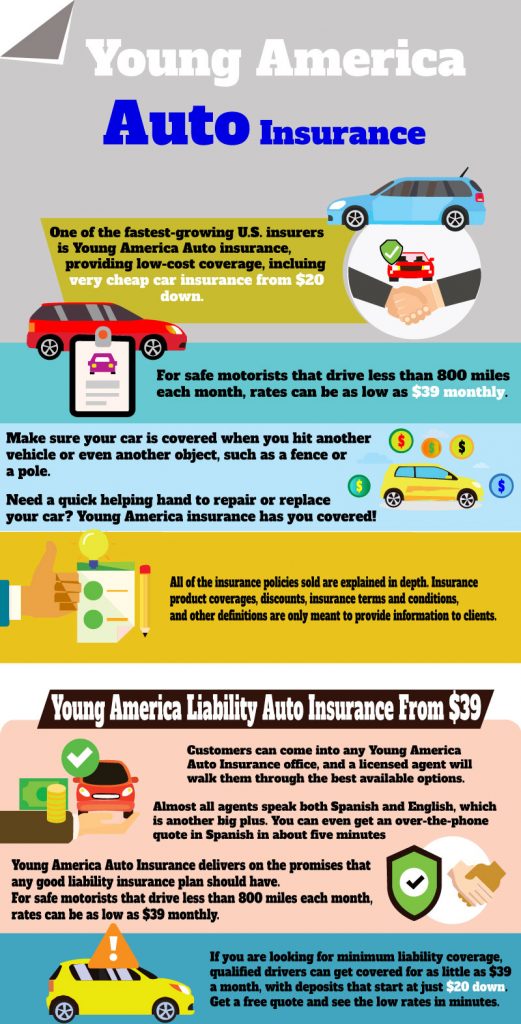 Young America Liability Auto Insurance From $39
Almost every state in the United States requires drivers to carry, at the least, the minimum amount of auto insurance required by law to be seen as legal and responsible. Auto liability insurance protects both your interests and your life. 
If you are looking for minimum liability coverage, qualified drivers can get covered for as little as $39 a month, with deposits that start at just $20 down. Get a free quote and see the low rates in minutes.   
Liability insurance covers you from vehicular incidents that you might be accountable for legally. This includes damage you caused in an accident, such as property damage or bodily injuries. With higher limits, you can protect your driving record and bank account with the right liability coverage. 
Liability insurance will cover you in the event of an auto collision caused by you. If the other driver causes any damages or injuries due to their negligence, you should also be covered if they are insured.  
Young America Auto Insurance delivers on the promises that any good liability insurance plan should have. For safe motorists that drive less than 800 miles each month, rates can be as low as $39 monthly. Car insurance rates vary based on many factors, including where you live. Generally, the lower your risk as a driver, the cheaper your rates will be. 
Young America car insurance works with each customer to help them get the best coverage possible at the lowest rates. That is the commitment that is made every day.
Bodily Injury Liability Protection
Everyone makes mistakes. Young America car insurance plans help you stay protected from financial harm if you cause an accident. Bodily injury liability plans will help you pay for the other driver if they are hurt in an accident that you are at fault for. 
Property Damage Liability Protection
Young America auto insurance also provides property liability coverage to protect the other driver's vehicle if it is damaged in an accident. This liability coverage can differ between a secure bank account and a lawsuit.
Low-Cost Uninsured Motorist Coverage
Suppose you are involved in an accident with drivers that don't have enough insurance or no coverage at all. In that case, Young America uninsured coverage can provide you added protection at low rates.
Uninsured insurance covers the expenses of any bodily injury to you or your passengers. For example, if you are involved in a hit-and-run accident with someone who is not insured. Adding uninsured motorist protection onto your auto insurance plan is not as expensive as you might think. Sometimes, it can be as low as $15 per month.
Personal Injury Coverage
Personal injury coverage fills in the gap in the case of death, injury, loss of services, or loss of income that has affected you, your covered family members, or your covered passengers (even though this does not apply to all states).
Medical Fees are Included
The payment for medical treatments includes the bills for you and the passengers involved in the accident, and it also covers losses if you are involved in a covered accident while on foot.
The Right Kind of Collision Protection
Young America auto insurance plans also extend to collision and comprehensive protection. The company provides a wide range of protection and collision coverage to help you when you need to pay for the damages to your car. Collision coverage will help pay to repair or even replace your vehicle if it becomes damaged in an accident. Usually, this insurance plan will protect you if you are an accident victim and not at fault. 
Basic loss of use (referred to as Rental Reimbursement) covers a rented vehicle or other means of transportation, such as a subway or bus, when your car cannot be driven after the accident. Rental days plus is an improvement to the basic loss-of-use protection, which provides a limitless number of days of rental car protection.
Advantages of Young America Car Insurance
There are numerous benefits to having a car insurance policy with Young America Insurance Company. Young America insurance puts the client's needs first. That means dedicated customer service and delivering some of the lowest auto insurance rates nationwide. 
Besides the low rates and dedicated customer service, drivers who refer friends and family can qualify for a $100 rebate. You may also include young American insurance rewards to customize your insurance policy.
All of the insurance policies sold are explained in depth. Insurance product coverages, discounts, terms and conditions, and other definitions are only meant to provide information to clients. They do not alter or change or modify the data contained in the insurance contract, policies, and acknowledgment sections from young American-affiliated endorsed companies. Such products, coverage, terms, and conditions might vary according to states, and disclaimers may also apply. It's essential to read any policy carefully before buying it. 
Expect the Unexpected
Young America auto insurance protects those unexpected events. Ensure your car is covered when you hit another vehicle or object, such as a fence or a pole. Need a quick helping hand to repair or replace your vehicle? Young America insurance has you covered!
Young America Auto Insurance Quotes
Comparing hundreds of plans and quotes online can be overwhelming when you aren't sure what coverage you need. To apply for a free Young America Insurance quote online, enter your zip code, and start an application. The process takes about five or six minutes, and you can save hundreds with direct rates. Get started on your free Young America Auto Insurance quote and see how easy it is to save hundreds.