Auto Insurance Companies that don't require Down Payment
Before the internet age, shopping for the right auto insurance companies that don't require down payment was often a tedious and challenging task. Typically, the only resources available to consumers were the Yellow Pages or word of mouth from their close friends. 
Most people who went looking for no deposit car insurance ended up getting quotes from their local insurance agent or broker. These professionals are paid by commission and often do not promote policies that require no down payment. 
Many consumers for decades found the process of shopping for auto insurance so frustrating; they often settled for whatever policy an agent recommended. Buyers didn't know if they got the best auto insurance rate possible. For those low on cash, paying for a big deposit was difficult. 
The good news is with the widespread adoption of internet-based auto insurance companies; consumers can quickly and conveniently compare dozens of different car insurance plans in minutes. Anyone looking for low deposit car insurance or even very cheap car insurance with no down payment can find these types of policies from select insurers. 
While the internet has made comparing the cheapest car insurance easier, how do consumers know that they choose the right car insurance companies with no down payment? Most online insurance sites have tons of resources that can assist users with finding the best insurance policy that meets their needs. You can get guidance on any type of insurance coverage, whether someone needs full coverage with high limits or a liability-only policy with no deposit. 
We have created the following guide to assist our readers and educate them on their search for the right insurance coverage. We hope you find the best possible auto insurance policy for your personal situation.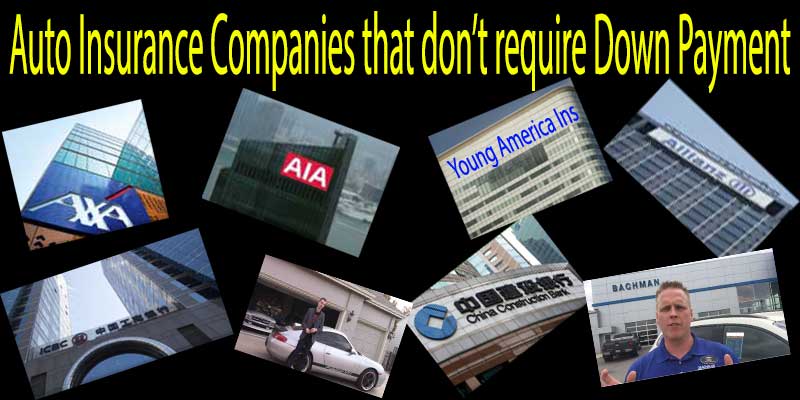 List of Auto Insurance Companies that don't require Down Payment
Farmers
Safe Auto
State Farm
Kemper
Progressive
Kemper Direct 
Allstate
Young America Insurance
Rodney D Young.
Some of these insurers offer nationwide coverage, so you can review custom quotes and buy your policy by going online. If you do not qualify for car insurance no deposit, you will be asked to make a small deposit. For low-risk drivers, they might be eligible for a deposit as low as $20 down.  
Other car insurance companies don't offer no deposit car insurance plans but have very low deposits. This includes:
Esurance
Mercury Insurance
MetLife Auto
Travelers
Infinity 
Good to Go Insurance
No deposit auto insurance is only available in several states. Each state has its own insurance laws and regulations, including laws about no deposit policies. The following states do allow auto insurance with zero down.  
New York
Arizona
Florida
California
Washington
Georgia
Oklahoma 
California has the most no down payment car insurance companies of any state. Start your free online quote and compare multiple rates in minutes. Just enter your zip code and complete a five-minute online application.
What If the Right Auto Insurance Company for You Requires A Down Payment?
This is a common question that many consumers searching for the right auto insurance provider often run into. Just because an auto insurance company offers a dirt cheap car insurance package does not mean that it is automatically the best option available. 
Sometimes, paying a little more for coverage, whether in the form of a slightly higher fee or a more significant down payment, can go a long way. Securing better auto insurance coverage can save you financially in the long run if you get into a severe and expensive accident. 
For example, many of the cheapest auto insurance policies only cover your liability in the case of an accident. The most affordable coverage will only cover the damage done to another person's car in the event of a crash. It means that you can be left to pick up an expensive repair bill. 
This authentic scenario can easily be avoided by those concerned about it. All you need to do is purchase better coverage, such as collision and comprehensive with higher limits. While it's more expensive, it will provide better protection and help you sleep at night. 
See if the auto insurer you choose offers very cheap car insurance with no down payment or low deposits to help you in a cash crunch. The more quotes you compare, the better chance you have of finding great coverage at a low rate that fits your budget
Why Should You Buy A Cheap, No Down Payment Car Insurance Policy?
For those driving an older car that might not be worth repairing in the event of an accident, the cheapest, no down payment car insurance policy is typically the right choice. While the coverage, limits, and deposit requirements vary by each insurer, so review at least ten quotes from regional and national insurers.  
Getting a

cheap no down payment auto insurance

can be ideal for drivers running short on cash, as the down payments demanded by traditional insurers could be very high. 

Typically, companies that offer low deposit plans also provide low monthly payments spread out over a 12-month term. In short, spreading out the cost of the premium over a year in small incremental payments will help more drivers afford to cover their vehicles.  

When you pay the first installment, your coverage will begin right away. This means that you can legally drive your vehicle as you are fully covered.
Tips for Finding Auto Insurance Companies that don't Require Down Payment
As we have seen, finding the right auto insurance companies that do not require a down payment can sometimes be difficult and frustrating. For those drivers actively shopping for a new auto insurance plan, consider these tips and tricks:
Check your eligibility for discounts: most insurers that offer dirt cheap rates also provide discounts to customers for many reasons, ranging from a strong driving record to military veteran status. If the insurance company you choose does not openly market these discounts, don't be afraid to ask.
Opt for an auto-payment plan: if you choose to select a monthly premium payment plan, we advise opting for an automatic payment plan. Many insurance companies will offer extra discounts for this.  
Ask your employer about Group Auto Insurance: Nowadays, companies offer group car insurance coverage to all employees, usually free or more affordable than even the cheapest auto insurance options on the market. Before buying insurance, talk with your current employer, as you might be able to get cheaper group rates.
When Shopping for Insurance Companies with No Down Payment, Do Your Research and Compare Multiple Quotes
When shopping for an affordable auto insurance plan with the lowest deposit, do thorough research and review ten or more quotes. Also, get all the discounts you can. Doing so can save you hundreds and help you afford better coverage. 
Finding auto insurance companies that don't require a down payment can be challenging, but it's possible. The internet makes shopping for auto insurance easier than ever. It's the best place to find the lowest deposit plans. 
Start comparing the lowest rates where you live in less than five minutes. Enter your zip code and fill out a quick quote application. You will be matched with up to ten insurers' cheapest rates. Start saving more money on the coverage you need today.