Auto Insurance Companies that don't require Down Payment
Before the age of the internet, shopping for the right auto insurance companies that don't require down payment was often a tedious and challenging task. Typically, the only resources available to consumers were the Yellow Pages or word of mouth from their close friends. Worse yet, many consumers found the process of shopping for auto insurance so frustrating that they merely settled for whichever insurer they saw first, meaning buyers usually didn't know if they were indeed getting the best auto insurance rate possible.
Thankfully, with the widespread adoption of internet-based auto insurance companies (like Young America Insurance, GoodtogoInsurance and Rodney D Young) consumers now can quickly and conveniently price dozens of different car insurance offerings. But, this convenience and accessibility has caused another issue: how do consumers know that they are choosing the right car insurance companies that don't require a deposit for them? With the goal of assisting our readers and empowering them on their search for quality insurance, we have created the following guide, which we hope will help you find the best possible auto insurance policy for your personal situation.
List of Auto Insurance Companies that don't require Down Payment
• Geico
• Safe Auto
• State Farm
• Kemper
• Progressive
• Allstate
• Young America Insurance
• Rodney D Young
• Cheap Auto Insurance in GA Inc.
Some of these companies offer nationwide coverage, so you can start your policy simply by going online. A few of them do ask you for a tiny/low down payment but the amount is affordable, around $20 down. There are other car insurance companies that don't require a deposit, not listed here, which operate mainly in the following states: New York, Arizona, Florida, California, Washington, Georgia, and Oklahoma. The most No Down Payment Car insurance companies can be found in the Golden State.
What If the Right Auto Insurance Company for You Requires A Down Payment?
This is a common question, and one that many consumers, searching for the right auto insurance provider for them, often run into. Just because an auto insurance company is offering a dirt cheap coverage package does not mean that it is automatically the best option available. Sometimes, paying a little more for coverage, whether it be in the form of a slightly higher fee or a down payment, can go a long way and lead to far better auto insurance coverage.
For example, many of the cheapest auto insurance providers out there only cover your liability in the case of an accident. Put differently, the most affordable auto insurance out there will likely just cover the damage done to another person's car in the event of a crash, meaning that you can be left to pick up an expensive repair bill. This frustrating scenario can easily be avoided for those who are concerned about it, by purchasing a slightly more expensive plan that will cover both the damage done to your car and the vehicle of whoever you get in an accident with. For those who are extremely price conscious, see if the auto insurer you choose may offer an auto insurance companies that don't require down payment after a period of good driving. This is a simple question that can frequently lead to hundreds of dollars in savings for the average consumer.
Why Should You Buy A Cheap, No Down Payment Car Insurance Policy?
For those who are driving an older car that might not be worth repairing in the event of an accident, the cheapest, no down payment car insurance policy is typically the right choice. While the services and perks offered by auto insurance companies that don't require down payment vary widely, a few benefits are universal, regardless of which policy you choose:
Getting a cheap no down payment auto insurance can be ideal for drivers running short on cash, as the down payments demanded by traditional insurers could be very high.
Typically, companies that offer to cover cars or other vehicles without a down payment or deposit also provide competitive monthly premium payments when plan payments are spread out over a 12-month term. In short, this means more money in your pocket, and less in the pocket of your insurance company.
When you pay the first installment, your coverage will typically begin instantly, meaning that you can get on the road almost immediately.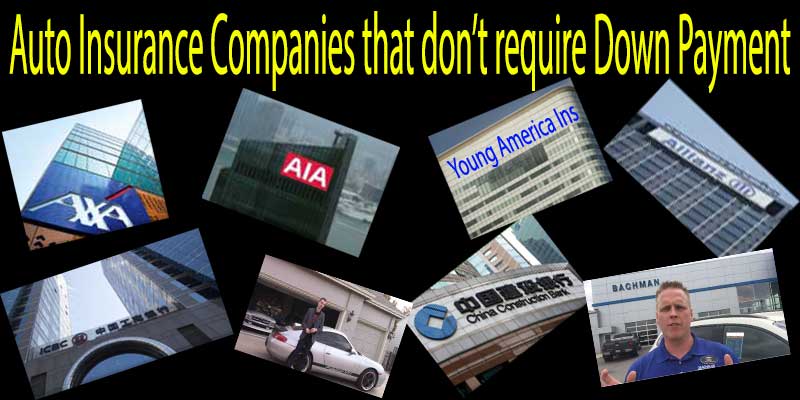 What Are Some Tips for Auto Insurance Shopping?
As we have seen, finding the right auto insurance companies that do not require down payment can sometimes be an overwhelming task. For those actively shopping for a new auto insurance plan, consider these tips and tricks:
Check your eligibility for discounts: most insurers that offer dirt cheap rates also offer discounts to customers for many reasons, ranging from a strong driving record to military veteran status. If the insurance company you choose does not openly market these discounts, don't be afraid to ask.
Opt for an auto-payment plan: if you choose to select a monthly premium payment plan, we advise also opting in for an automatic payment plan, as many insurance companies will offer extra discounts for these bundles.
Before buying insurance, talk to your employer. These days, companies both big and small, offer group car insurance coverage to all employees. Often, this coverage is either free or much more affordable than even the cheapest auto insurance options on the market. Before agreeing to purchase an auto insurance plan, make sure to talk with your current employer, as it could easily save you a ton of money in the long run.
When Shopping for Auto Insurance, Be Patient and Do Your Research
Above all, when shopping for an affordable auto insurance plan, do your best to be patient throughout the process and do your research. With the vast number of auto insurance companies that don't require down payment available today, chances are there is a great deal out there just waiting to be discovered. If you choose to rush your decision and simply purchase the first cheap plan you find, you could be leaving a number of different discounts and perks (that may be offered by a competing insurance company) on the table.
This is not to say that one should drive without auto insurance while shopping for the most affordable plan they can find. Doing so is incredibly risky, as in most states it is illegal to drive a car that does not have at least some form of liability insurance. With this being said, if you have the luxury of being able to price match and look for the best auto insurance deal, we strongly suggest you do so, as it can save you a ton of time, money, and hassle in the long run.