Cheapest Car Insurance in GA with No Down Payment
It's possible to find cheap car insurance in GA with no down payment, even though the state ranks as the eleventh most expensive state for car insurance.
You'll have to be ready to put a little time and effort into your search for the most affordable insurance rates. Below, you'll find the best tips for finding cheap auto insurance ga, but first, you'll want to know what type of coverage is required in Georgia.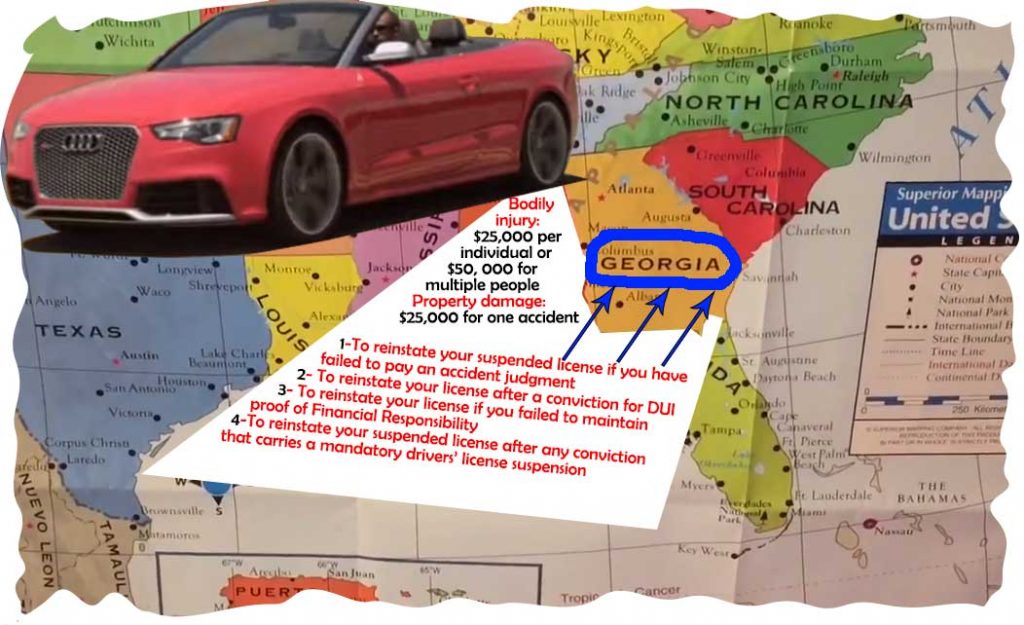 What Type of Car Insurance is Required in Georgia?
Georgia, like every state in the US, requires that all drivers carry liability insurance on any vehicle they plan to drive. In an at-fault accident (meaning you were deemed the cause), liability coverage pays for injuries to other people (passenger, another driver, pedestrian, or motorcyclist). In GA, minimum liability limits for personal car insurance are set at:
Bodily injury: $25,000 per individual or $50,000 for multiple people
Property damage: $25,000 for one accident
You may want to consider carrying more than just the minimum coverage. This is because once you have reached your policy limit, you could be on the hook for unpaid bills.
Currently, GA doesn't require drivers to have uninsured or underinsured motorist (UIM) coverage. However, it is strongly recommended and may be included in your policy without your knowledge unless you have declined this type of coverage in writing. This is because GA law requires that insurance companies make this type of coverage available when you purchase your policy.
Remember that if your automobile is financed through a bank or finance company, they almost always require you to carry collision and comprehensive coverage. This also applies if you are leasing a car. Comprehensive and collision coverage is discussed below.
Comprehensive and Collision Coverage
Although they are only required if you are financing or leasing a car, you'll want to consider comprehensive and collision coverage. Collision coverage covers the costs of repaired or replaced property, while comprehensive coverage extends to non-accident-related events. This includes theft, fire, vandalism, and windshield damage. With this coverage, you can be sure you will be protected in the event of an accident, even if you are at fault.
Driving Without Car Insurance
While driving your car without insurance may be tempting, especially if you struggle with the money to activate your policy, it's not worth it. Anyone found driving without insurance in Georgia faces stiff penalties, driver's license suspension, and even jail time.
Proof of Car Insurance
If you cannot show valid proof of your car insurance when requested by a police officer, you may be charged with a misdemeanor. This applies if you are pulled over or involved in an accident. In addition to paying a fine, you risk suspending your license and registration until you show proof that a 6-month car insurance policy is in place.
To ensure drivers have car insurance coverage, the state requires that insurance companies notify the GA Department of Driver Services (DDS) when insurance is purchased or terminated and if a vehicle is added or removed from an existing policy.
In some cases, you may be required to obtain an SR-22, a certificate of future proof of financial responsibility. Your insurance company will issue this form verifying that you currently have liability coverage on your car. Cases where an SR-22 may include:
To reinstate your suspended license if you have failed to pay an accident judgment
To reinstate your license after a conviction for DUI
To reinstate your license if you were unable to maintain proof of Financial Responsibility
To reinstate your suspended license after any conviction that carries a mandatory driver's license suspension
Is Cheap Car Insurance in GA with No Down Payment Available?
In simple terms, no. No down payment car insurance is a significant financial risk for car insurance companies. Fortunately, you don't have to resign to making a large lump sum payment to get your coverage started and your car legally on the road. Instead, you can divide your premium into monthly or quarterly payments. Once you have made your first payment, your insurance coverage begins.
The lower your car insurance premium amount, the lower your monthly or quarterly payments will be. This leads to a big question. How can you find the best price on car insurance in Georgia?
Finding Cheap Car Insurance in GA with No Down Payment
The easiest (and most important) way to find the best price on car insurance is to shop around. This involves getting quotes from multiple companies, ensuring the coverage is the same, and selecting the best deal. Here are a few tips that will help you get started.
Look into the companies offering the lowest rates in Georgia: According to Nerd Wallet, the top three companies with the lowest rates in the state are Georgia Farm Bureau, State Farm, and Progressive insurance. This is the case regardless of your credit rating. Geico and Progressive, in particular, have low deposit car insurance for Georgia residents. Some down payments can be secured for as little as $20 down. A low down payment policy helps many Georgia residents, who might not otherwise be able to afford coverage, get insured the cheapest way possible.
Take full advantage of discounts – There are plenty of discounts available for GA drivers, including:

Good driver
Good student
Military veteran
Bundled policy (Combining your car insurance with other types, such as homeowners or renters)
Safety features (This includes items like GPS anti-theft systems)
Opt for a higher deductible – The deductible refers to the amount you'll have to pay out of pocket before your policy kicks in. The higher your deductible, the lower your monthly rate will be. Just remember that you will have to come up with this money if you are in an accident and file a claim.
Choose liability-only coverage – You may consider taking out liability coverage only if your car is paid off. This is especially true if you are driving an older model car with a low value. You'll have to decide if the lower premium is worth the risk.
You May Walk Away with Nothing If You Are Involved in a Crash
If you need cheap car insurance with a low down payment in GA, it's time to start your search by getting multiple quotes and comparing them. Enter your zip code to get started and lower your auto insurance rates.