Young America Insurance Company
Most people know very little about auto insurance and don't know where to turn to get their vehicle covered. This is where Young America Insurance Company can help you. Each Young America agent takes the time to meet every client and explains insurance in a way almost anyone can understand.
Almost all agents can speak both English and Spanish, which is a huge advantage. You can even call over the phone anytime with any questions or concerns. Then, for direct quotes in under five minutes, just enter your zip code and fill out a free online application.   
Most people own a vehicle, and many have more than one. With auto insurance mandatory in almost all states, getting your vehicle insured is a must. You need an insurer that can get you covered at the lowest rates, along with the excellent service you deserve. This is one of the reasons why Young America Insurance Company has grown so rapidly. Clients love the one-on-one customer service and feel like the professional agents really care. 
Young America Insurance Can Saves Drivers Hundreds 
Searching for the lowest rates, best coverage, and a company that best suits you can become quite a task. However, there's no need to look around for the best when you have found Young America Insurance Company. You can get a quote over the phone or online anytime, and there is no need to buy a policy. Most people can save $550 or more with Young America auto coverage. 
If you are low on cash but still need to get your automobile covered immediately, there are low and even no deposit insurance plans that can help you. One of the most popular options is state minimum auto insurance from $39 a month and zero down. Of course, not everyone will qualify for the lowest rate, but you can get insured for less than you might think with nothing down.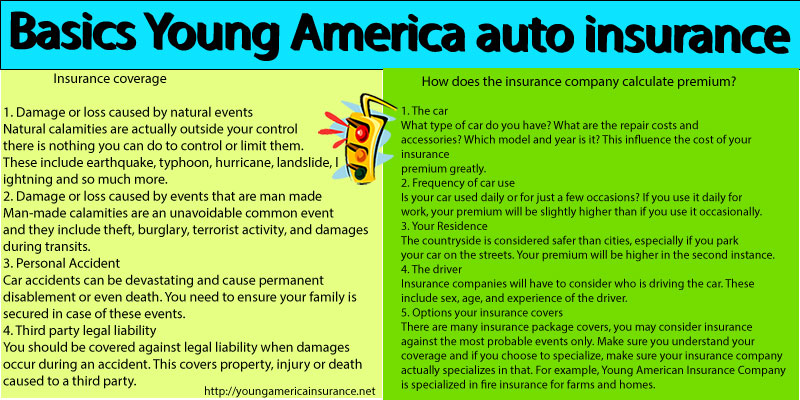 Excellent Customer Service   
Young America Insurance was built having in mind the needs of the customers it serves. This means dedicated service, affordable rates, easy online payment options, and monthly installment plans. We know what customers are looking for in an insurer and strive to deliver each day to serve our client's needs.
It is always advisable to take insurance coverage from a local insurance company that really understands your particular community's insurance needs. For example, if you are from either Texas, Colorado, Illinois, New Mexico, California, or Nevada, then not just Young America Insurance Company but Loya insurance is also great for you. This is because they actually concentrate on local communities, and you can easily access them.
How Auto Insurance Works Basically, you need to understand that you can either use it or not use it when it comes to auto insurance. You pay a yearly premium on the off chance you may need it if you get into an accident.
If you have any damages, you are secured and can repair or replace your vehicle. However, what if you don't? In this case, you will get what is known as a No Claim Bonus. It is a substantial bonus and usually between 20% of your first-year premium. However, it can go up to about 50% in your sixth year. The No Claim Bonus may not be the full amount, but you were covered during the whole period, which makes it a fair deal. Do not claim minor damages because you lose your claim on the bonus.
Insurance Coverage
To get a real grip on everything about auto insurance, let us look at what comprehensive car insurance cover with Young America Insurance Company actually entails:
Damage or loss caused by natural events –

Natural calamities are actually outside your control; you can do nothing to control or limit them. These include earthquakes, typhoons, hurricanes, landslides, floods, lightning, and so much more.

Damage or loss caused by events that are man-made –

Man-made calamities are unavoidable and common, including theft, burglary, terrorist activity, and damages during transit.

Personal Accident –

Car accidents can be devastating and cause permanent disablement or even death. Therefore, you need to ensure your family is secure in case of these events.</span/>

Third-party legal liability – You should be covered by legal liability insurance when damages occur during an accident. This covers property, injury, or death caused to a third party.
How Does the Young America Insurance Company Calculate Premium?
Many factors are actually considered in calculating your premium. It is, however, critical you know the most important, which include:
The car –

What type of car do you have? What are the repair costs and accessories? Which model and year is it? The vehicle you get influences the cost of your insurance premium significantly.

Frequency of Vehicle Usage –

Is your car used daily or for just a few occasions? If you use it daily for work, your premium will be slightly higher than if you use it occasionally.

Your Residence –

The countryside is considered safer than cities, especially if you park your car on the streets. Your premium will be higher in the second instance.

The Driver –

Insurance companies will have to consider who is driving the car. These include sex, age, and experience of the driver.

Options your insurance covers – There are many insurance packages, so you may consider insurance against the most probable events only. Make sure you understand your coverage and if you choose to specialize, make sure your insurance company actually specializes in that. For example, Young America Insurance Company specializes in fire insurance for farms and homes.
Your driving record –

The car insurance will get access to your driving record and view your previous claims and accidents.
Tips to Reduce Your Auto Insurance
Combine your home and auto insurance – This move will really help you save on your premium and still get quality insurance. It does not compromise your insurance in any way.
Insure all your vehicles with the same company – You will pay lower combined premiums and save a lot if you do this. You will also be able to get the most comprehensive insurance coverage.
Install anti-theft systems – Make sure your company approves an alarm system before actually installing it. You will actually pay less premium if you have an approved anti-theft alarm system.
Honesty – Never lie on your insurance policy; this results in the automatic denial of your coverage. Do not omit any information when filing your insurance claim. Check more info about insurance on Wikipedia.
Free Online Quotes
One of the best ways to lower your car insurance premiums is to shop online. Young America works with dozens of top-rated insurers to help you get the lowest rate possible. Most customers save hundreds. To check rates, just apply online for a rate quote. Enter your zip code to get started and see your lowest rate in minutes.