Young America Insurance In Montgomery, AL
Young America Insurance Montgomery, AL is proud to serve a community of good Samaritans. Conveniently, Young America offers low-cost auto insurance for residents of Montgomery and throughout Alabama dating back decades. 
Let's take a step back almost 70 years in the past, in 1952. Rodney D. Young, a Dallas-based businessman, felt that people were being treated unfairly, especially when it came to minorities, that often found it challenging to find cheap auto insurance coverage. Many customers with a less than perfect driving record were often denied standard car insurance. They were usually charged high premiums that they could not afford, which let many people driving without coverage. 
In some cases, a few issues arose in their driving or credit records that prevented them from being insured. This marked the birth of Rodney D. Young Insurance, which gave those who were once left uninsured, an alternative auto coverage company they could turn to. Rodney was committed to serving lower-income drivers with affordable coverage. 
After the state of Alabama passed a mandatory minimum auto insurance law in 1980, Rodney D. Young Insurance made its presence felt. Rodney auto insurance grew rapidly by focusing on the customer and insuring drivers who otherwise could not get insured. They began offering Alabama drivers with either bad driving records or little financial resources affordable services with their short-term policies. 
Customers often referred Rodney D. Young to friends and family, and the company grew to one of the largest insurers in the Mid-West. Young America Insurance Montgomery AL is committed to serving the needs in every market in the U.S. with this philosophy.
Getting Cheap Car Insurance with Young America Insurance Montgomery, AL
Finding cheap car insurance with no down payment can be a difficult task, and most people get frustrated. Rates have been going up the past few years, making insurance coverage too expensive for many motorists. 
Anyone can compare a quote in about 5 minutes with Rodney Young's website, even using a smartphone device. Most visitors, even those with a less than perfect driving record, can save hundreds on coverage with direct rates. Alabama drivers, on average, save about $530 by switching to Young America Insurance. To compare free online quotes, just enter your zip code and fill out a simple application. It only takes about five minutes, and there is never any obligation to buy a policy.  
What to Expect from Rodney D Young?
Rodney D. Young Auto Insurance is an established top automobile insurance coverage company. It offers annual, semiannual, as well as monthly insurance plans for clients at affordable rates. We provide top-rated coverage that gives you the peace of mind that comes with having a company behind you when you need it most.
Over the years, the company has expanded remarkably and presently operates through offices in numerous cities around the US. These include Colorado, Arizona, Nevada, Missouri, North Carolina, Alabama, and New Mexico, not forgetting that they maintain over 75 office locations nationwide, with their headquarters in Dallas.
Young America Insurance makes available a variety of auto insurance coverage for clients to select from. As much as individuals should be familiar with each and every available auto coverage, professional reps at the company can assist consumers in choosing affordable policies that best suit their needs. 
The primary auto insurance coverages include Liability Car Insurance, Collision Auto Insurance, and Comprehensive Automobile Insurance. Aside from these foremost coverages, consumers might need extra protection to eliminate massive expenses that they could incur if they get hit by other road users with no auto insurance. At Rodney D Young, such a situation can be covered.
Apart from Automobile Insurance, Young America Insurance Montgomery AL also offers other Types of Insurance Policies
Insurance products include Homeowners, Renters, Condo, Business, and commercial purposes. Furthermore, they make available the Royal Auto Club membership. With such membership, clients can enjoy benefits, such as towing, roadside assistance, battery replacement, fuel filling, not forgetting the availability of a 24-hour help desk.
It doesn't just end there. Young America Insurance also offers online options for their numerous clients, covering policy information, claim submission requests and insurance application forms. This, in turn, makes things easier and eliminates the hassle associated with the manual aspect of accessing these documents.
Young America Insurance, Montgomery AL, features F. Gaylon Young Insurance Agency, which operates under the parent company (Rodney D. Young Insurance) in the Automobile Insurance industry within the Insurance carriers. Here, the company employs a low amount of staff, between 1 and 4 in number.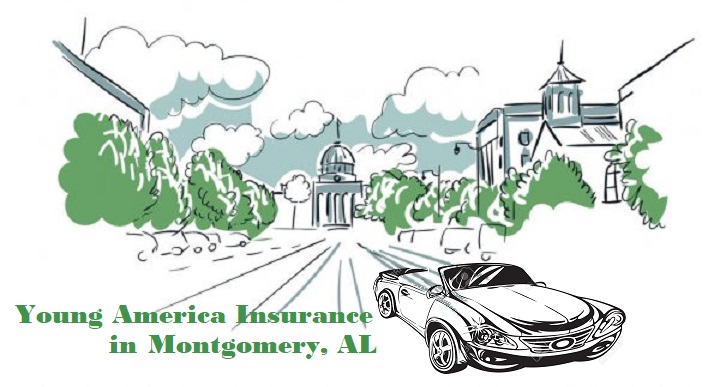 Young America Insurance Website
Young America Auto Insurance goes a long way with its user-friendly website, making it easy for potential clients to compare rates from as many as ten national carriers at their convenience. Clients also can put a hold, retrieve, and finish quotes whenever they please. This auto coverage company offers quotations in all 50 states in the US. It aids clients in identifying discounts on their policies, some of which they are oblivious that they are entitled to.
When you use the new and improved Young America website, clients can get low-cost car insurance now and pay later and save a lot of money by buying directly from the company. The Rodney D Young Insurance website offers multiple low-cost quotes from prominent providers throughout the country. Clients will no longer have to go through costly traditional insurer models or pay commission on consumer policies.
Compared to other Insurance companies, it is safe to say that Young America Insurance quotes are among the best nationwide. Their attractive automobile insurance rates are a consequence of the direct sale of policies online. This allows small providers to gain a direct competitive advantage over prominent companies in the industry, most of whom are backed up by expensive sales staff.
Offering Web-based Quotes isn't Just Enough for Young America Insurance Montgomery AL
Young America Auto Insurance has gone the extra mile to provide suitable insurance stores like Nevada, Colorado, New Mexico, Arizona. These stores make it more convenient for clients to directly interact with the company's representatives outside their website when the need arises.
This pioneering auto Insurance coverage company boasts of outstanding customer service. This could be a viable factor for the speedy growth the company is experiencing. Personnel in the company, including those in the customer service unit, are experienced in handling issues relating to the car insurance market, thereby providing clients with the most professional advice they can find.
Most of their company reps are bilingual; speaking both English and Spanish is the icing on the cake. Clients can conveniently request auto quotes over the phone and, in most cases, can also save as much as $550 just by switching their policies over.
Another offer that seems to be pulling in customers while also boosting the company's growth is the $100 credit that current clients are entitled to. It's usually when they recommend Young America Insurance to friends and family. Beyond these tasty offers, the ability of the company to maintain a very high customer satisfaction rating makes them an absolute powerhouse in the insurance industry.
Young America Insurance Mission Statement
The company's primary mission is to eliminate unnecessary roadblocks, thereby allowing low-income earners to get affordable car insurance with 100% customer satisfaction. 
Rodney D Young Auto Insurance serves as a lifeline for those with limited finances who are tired and frustrated with paying a fortune just to get proper vehicle coverage. With over five decades of experience and more than a million satisfied clients, there is no doubt that you are in safe hands. Get a quote today and see how much you can save on the coverage you need.